Ready to retire and find your dream home?
Purchasing a new home is an exciting time. It can also be a bit overwhelming. At Sunshine Home Sales, our mission is to make the manufactured home buying process as simple as possible for our customers. We specialize in manufactured home sales throughout Florida. Helping you find your next home in the right community is what we do.
Cozy country home on the pond!
Price Reduced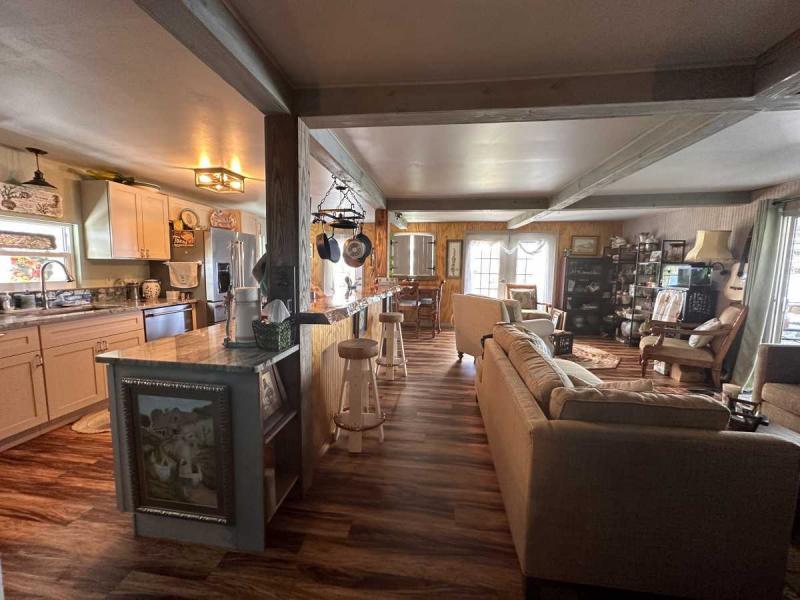 This beautifully remodeled two bedroom, two bath home is designed for entertaining! It has a gourmet kitchen with venetian plaster accent walls, granite countertops, pull out trash and spice cabinets, a pantry, and secret spots to hide valuables (will be revealed to the buyers). This home has a cozy country feel. It comes fully furnished and is turnkey. It provides an open concept living area with a beautiful live edge heart of pine bar with turquoise inlays. All the kitchen cabinets have soft-close doors and drawers. It's a total stainless-steel kitchen, has a chef's refrigerator, & a dedicated microwave shelf. Also has a large country style sink! The home has new subfloors and luxury vinyl waterproof laminate flooring throughout that gives this home a real country feel. It has structural exposed beams in the living/dining room and custom ceilings. There is a 1890's beveled glass window overlooking the deck and lake. A truly unique home. The only damage was 15 feet of carport and 2 feet of lanai/flashing, which have been replaced. The roof is intact with no leaks and no damage inside the home. Flooring is about two years old. The AC unit is a mini split system, one in the bedroom and one in the living room. These units keep My Home cool, and my bills even in the summer or under $100. This keeps the home very cool & energy efficient. This home is situated on the lake in Buccaneer Estates. It has a beautiful backyard with many flowers, herbs, trees, and room for growing vegetables. The gazebo type deck overlooking the lake and Ibis island is the perfect place for birdwatching, morning coffee or an evening cocktail while watching the sunset. This home is must see. Take in the view of the gorgeous backyard and find all of the unique touches added during the remodel. The Vapor Barrier is new under the home and a metal roof that was just recoated a few weeks ago. There was no internal damage on the inside of the home from the hurricane and all of the outside damage was repaired and/or replaced. The home has an attached carport that holds two cars, and a shed with a stacking washer dryer. The lanai is breezy and a special part of this beautiful home at a great price! Motivated seller!
Storage Shed
Carport
Gutters
Walk in Closet
Refrigerator
Microwave
Oven
Dishwasher
Washer
Dryer
We know that selling your home is stressful so let us help you. Sunshine Homes Sales will get the best price for your home and we will market and promote your listing, pre-qualify potential buyers, and handle all of the paperwork. Our mission is to SELL your home quickly and at a price that you'll be happy with.
Sunshine Home Sales Testimonials:
Recently, we sold my mother's Florida vacation home in Punta Gorda. We live in Canada and due to COVID-19 restrictions we were unable to travel to prepare the home and complete the paperwork involved. Fortunately, with modern technology and the expertise of Jim Marlow we were able to sell remotely. Jim acted with integrity in the use of his knowledge and skills. He was upfront and told us what we needed to know to sell the property. His enthusiasm and commitment to us was unprecedented. I assumed that completing this property sale through the phone and computer was going to be difficult and did not look forward to the hassle it was going to create. Jim's service was fabulous. He made the transactions effortless. We are very pleased with his loyalty, dedication and professionalism. We would highly recommend him to friends and family.
Randy, Have I told you how awesome you are?  I just want you to know how happy we are to have found you!! I appreciate everything you do!!
This company has the best most supportive knowledgeable helpful compassionate lovely people I have ever had the pleasure to work with. I cannot recommend this company highly enough.
I recommend Sunshine Home Sales services to anyone looking to buy or sell a manufactured home. They are willing to go above and beyond for their clients. We have been very fortunate to have her on our side.
Jim, Randy, and crew, Thanks so much, great job on the video, and its much appreciated!! Really liked working with you! You two made selling our home a breeze.
Randy, I wanted to hug your neck in thanks, but just know how much I appreciate all your work.  I wish you health and good wishes in all you do!  Please stay safe and healthy!
Thank you for selling our unit so quickly and efficiently.  We hope the new owner enjoys it and the park as much as we did!
We put our house for sale in March 2021 and made all the arrangements with Sunshine Home Sales. Being about 2300 miles away, it was at times somewhat stressful, but there was no need to worry. Randy was/is trustworthy and efficient. The house sold rather quickly and all went well. Thank you Sunshine Home Sales and especially Randy for your excellent service!