Invest in Manufactured Homes in the Sunshine State with Sunshine Home Sales
Are you looking to purchase a home for the first time? Downsize to a smaller space? Or live a more economically, environmentally, and minimalistic lifestyle?
We want to help you discover your ideal home in your ideal community. Our team is equipped with the knowledge, tools, and selection of manufactured homes to make this happen while also providing superior customer service. 
When you purchase a home with Sunshine State Homes Sales, we include the American Home Shield – ShieldEssential home warranty plan. 
Cozy country home on the pond!
Price Reduced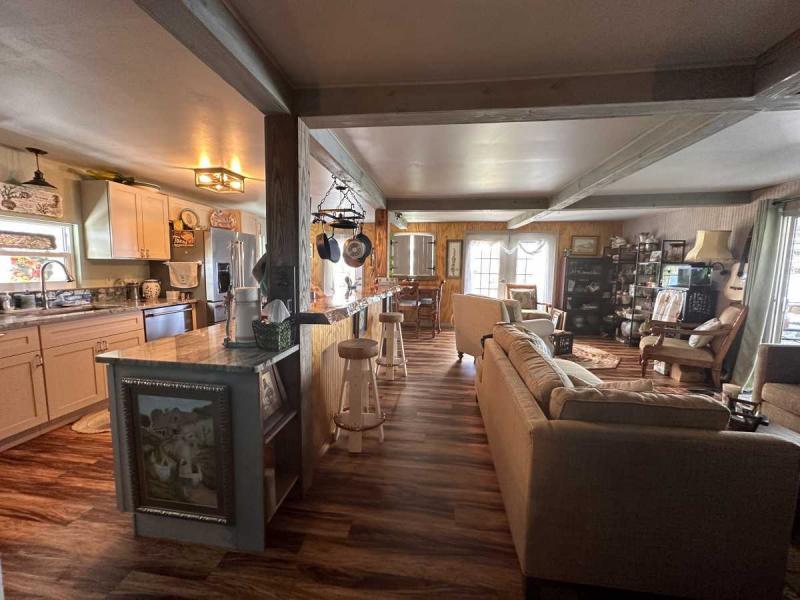 This beautifully remodeled two bedroom, two bath home is designed for entertaining! It has a gourmet kitchen with venetian plaster accent walls, granite countertops, pull out trash and spice cabinets, a pantry, and secret spots to hide valuables (will be revealed to the buyers). This home has a cozy country feel. It comes fully furnished and is turnkey. It provides an open concept living area with a beautiful live edge heart of pine bar with turquoise inlays. All the kitchen cabinets have soft-close doors and drawers. It's a total stainless-steel kitchen, has a chef's refrigerator, & a dedicated microwave shelf. Also has a large country style sink! The home has new subfloors and luxury vinyl waterproof laminate flooring throughout that gives this home a real country feel. It has structural exposed beams in the living/dining room and custom ceilings. There is a 1890's beveled glass window overlooking the deck and lake. A truly unique home. The only damage was 15 feet of carport and 2 feet of lanai/flashing, which have been replaced. The roof is intact with no leaks and no damage inside the home. Flooring is about two years old. The AC unit is a mini split system, one in the bedroom and one in the living room. These units keep My Home cool, and my bills even in the summer or under $100. This keeps the home very cool & energy efficient. This home is situated on the lake in Buccaneer Estates. It has a beautiful backyard with many flowers, herbs, trees, and room for growing vegetables. The gazebo type deck overlooking the lake and Ibis island is the perfect place for birdwatching, morning coffee or an evening cocktail while watching the sunset. This home is must see. Take in the view of the gorgeous backyard and find all of the unique touches added during the remodel. The Vapor Barrier is new under the home and a metal roof that was just recoated a few weeks ago. There was no internal damage on the inside of the home from the hurricane and all of the outside damage was repaired and/or replaced. The home has an attached carport that holds two cars, and a shed with a stacking washer dryer. The lanai is breezy and a special part of this beautiful home at a great price! Motivated seller!
Storage Shed
Carport
Gutters
Walk in Closet
Refrigerator
Microwave
Oven
Dishwasher
Washer
Dryer
Estimate your monthly mortgage payments with our easy-to-use loan calculator. You can compare using various loan terms, interest rates, and down payment and loan amounts.
Enter Loan Information:
Your monthly payment:
$